Inside the June/July newsletter: celebrating PRIDE month; testing ChatGPT; Spring Scenes video; top tip about microphone use; AVENUE introductory discount
View in browser
| | | |
| --- | --- | --- |
| | | June/July 2023 Newsletter |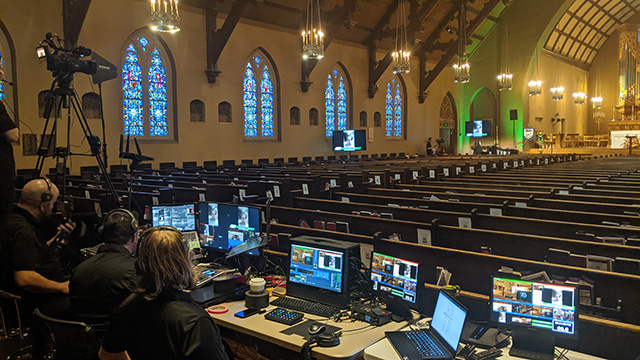 Moving into Summer Event Season
Graduations, conferences, trade shows -- it's June!
Before we jump full-on into summer, we paused take a quick look back at the past few months in our Spring Scenes Video. We're sure you'll recognize familiar places, people and events. 
This month's newsletter features a new blog article that details two experiments with AI technology and its usefulness in event and video production planning. You will also find the Staff Top Tip and in the spotlight are two fun PRIDE month celebrations.

Plus, an update from AVENUE!
Shown above: The AV Department live event production team prepares for the Oregon Episcopal School 2023 Commencement at Trinity Cathedral in Portland, Oregon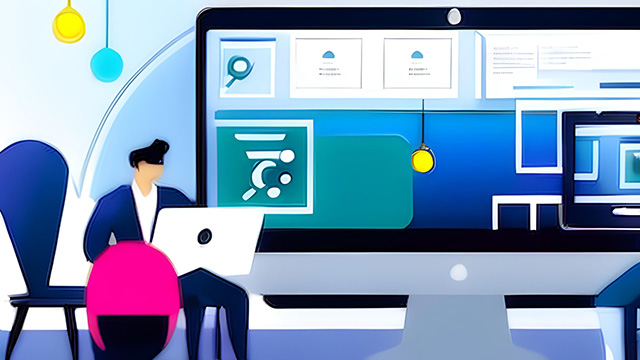 PRODUCTION PLANNING
Two Tests with ChatGPT
In an industry that involves creativity and talent, we wondered if we could find practical uses for readily available artificial intelligence (AI) technology. Could AI assist with event and video planning? To answer that question, we tested two ways that organizations might use AI during their planning process for events and video projects. For both tests, we used hypothetical event and client information and OpenAI's ChatGPT.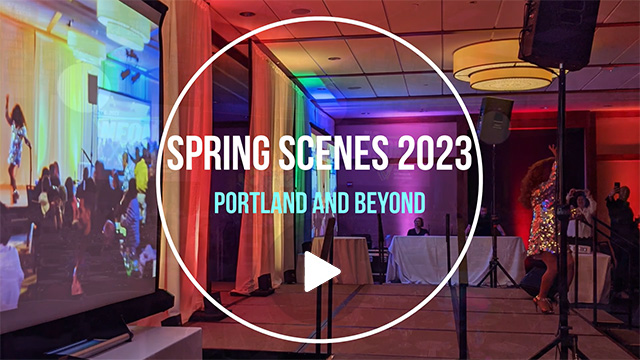 EVENT PRODUCTION
Spring Scenes 2023 Highlight Video
There were many great moments during this spring event season. Even a special entrance by a delightful goose! We've collected many highlights in our new Spring Scenes 2023 video. Thank you all for including us in your event and video projects!
AUDIOVISUAL PRO TIPS
What's your top tip for clients?
"Proper microphone technique is important if you're a presenter using a handheld microphone. As you're speaking, you may naturally want to look around the room at the audience. While doing that, make sure you move the mic along with your head so that it stays directly in front of your mouth. While this seems obvious, it's very easy to forget if you're not used to public speaking. Also remember to keep the mic close while speaking. Think of holding it like you're just about to take a bite of an ice cream cone. The closer it is to your mouth, the happier everyone else in the room is going to be."
– Adam Breeden, Technician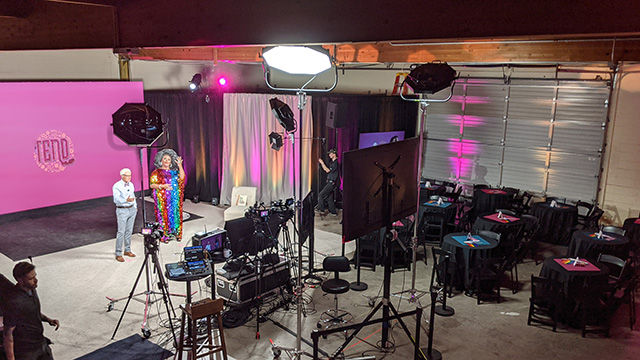 HYBRID EVENTS
Spotlight: Pride Foundation's Tend
Live streamed from The AV Department production studio in front of a studio audience, Tend was a wonderful event to start Pride month. The fundraising event supports Pride Foundation's work that advances equity and justice for LGBTQ+ communities across the Northwest.
Tend was hosted in the studio by benefit auctioneer Dale Johannes and emcee Poison Waters. The hybrid format allowed guests to attend from anywhere and everywhere and brought supporters together for watch parties in six states -- Oregon, Washington, Alaska, Idaho, and Montana. The broadcast produced with Swaim Strategies also included a live feed from the Seattle watch party and photos from virtual attendees from across the country.

Shown above: Hosts Dale Johannes and Poison Waters rehearse on set before the studio audience arrives for the live broadcast of Tend.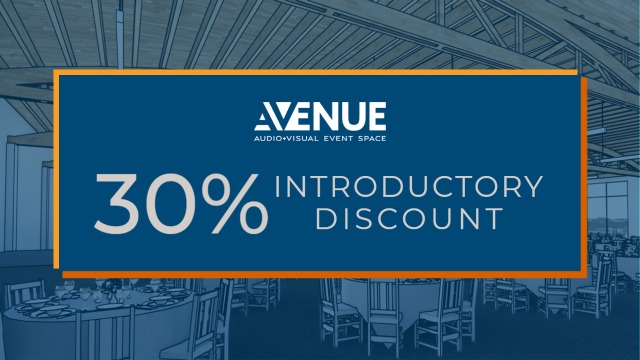 BE ONE OF THE FIRST
AVENUE Introductory Discount
Are you a trailblazer? Are you looking for a new experience for your event attendees? Do you always find amazing offers? 
You already know the high-value production services provided by The AV Department. You don't yet know AVENUE. To thank clients who are the first to book events at AVENUE, we are offering a 30% introductory offer. 
The sold-out Pride month drag show at the Multnomah Athletic Club was a blast! The amazing Poison Waters and Friends had the audience on their feet cheering, applauding, and dancing.  🌈
The AV Department
720.295.9693
(Postal Address)
PO Box 12697, Portland OR 97212 
(Headquarters)
509 NE Hancock Street, Portland OR 97212 

You received this email because you are a valued client of The AV Department, have subscribed to this newsletter, or have requested information from The AV Department.
Unsubscribe
Connect with Us on Our Social Channels